Today's journey started with teaching Ginny's class how to hand sew.  Laura my oldest who is quite proficient with hand sewing went along to help.  We anticipated having twelve girls and hoped that between the two of us we could accomplish quite a bit.
After the request came to help, I started here:
http://www.kids-sewing-projects.com/pre-beginner-sewing-lessons.html
We used plastic canvas to start as suggested.  This was a fabulous idea and helped the girls by having a predefined space.  We struggled a bit as I couldn't find yarn needles so we used thread and the needles they would be using for their project.  This worked well except I should have started with a contrasting thread to the canvas.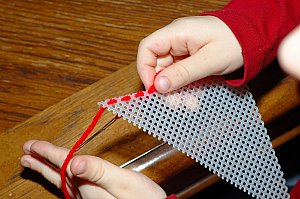 We did the running stitch as shown here then a lock stitch you take one step forward and one back.  We talked about why we would use this stitch rather than the running stitch above.
After we were finished practicing their stitches on the canvas until they felt comfortable we moved to the fabric.
It was prepared by:
cutting out rectangles 5″ wide by 10″ long from muslin cloth
the long edge was rolled to form a casing and I used a decorative stitch to stitch across the top
ribbons to match the color thread at top were prepared with a safety pin at the end
pre-threaded all the needles with thread for their project
We folded the fabric in half so that one side of the bag was completed and we needed to finish the bottom and the other side.  This worked really well.
In this photo she has finished the one side of the bag and is starting across the bottom.
This class' focus was to introduce the girls to hand sewing.  To me it is important that the girls go home with a finished product so if they tried and didn't like it they wouldn't have this unfinished project on their hands.  I brought my sewing machine to finish up any of these projects.  Hooray we didn't have to use it for that reason but we had 5 girls that didn't come so Laura gave them a quick introduction to machine sewing and finished up the remaining bags for the girls that weren't able to come.
The class was set to run 1 hour 30 minutes.  It took us that long and I was quite grateful to have two ladies helping out.  We were busy every minute helping with knots and tangled thread.  We had a knot queen and a loop queen at the end.  This proclamation helped several very stressed girls to relieve a little pressure.    They all did a fabulous job.   Their bags are finished and ready for potpourri or my bag will hold soap nuts for our laundry loads.  One girl brought several mini skate boards with her and they were in her bag when she left to go home.